Air Filter Replacement Service in Sea Girt, NJ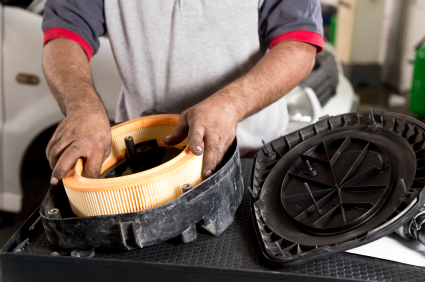 Service Hours
855-876-2692
| | |
| --- | --- |
| Monday | 7:00 am - 6:00 pm |
| Tuesday | 7:00 am - 6:00 pm |
| Wednesday | 7:00 am - 6:00 pm |
| Thursday | 7:00 am - 6:00 pm |
| Friday | 7:00 am - 6:00 pm |
| Saturday | 7:30 am - 4:00 pm |
| Sunday | Closed |
If you are not an automotive expert, it can be difficult to diagnose the different servicing your car might need when it begins to malfunction. We at Coast Honda's service bay are ready to help! We have a highly trained team that can diagnose maintenance problems, such as when you might need an air filter replacement. To learn about this particular vehicle component, read on!
How Does My Air Filter Work?
Allow us to explain the purpose of an air filter in a car and why it is so vital. In order to power up, your engine creates small combustions that propel your powertrain. It does this by lighting a combination of gas and oxygen on fire! If the oxygen that enters this combustion is not clean, it will toxify the engine block and cause problems, which is why the air filter acts as a purifying agent. It collects all the dust and debris before it enters the system so that only clean air is being used. However, over time, it is guaranteed that the filter itself will gather too much grime and grit and will need replacing.
Timeline and Warnings
When it reaches this point, you might notice certain signals start to pop up. First, if you your "check engine" light turns up on your dashboard, that could be indicative of an issue. If you also notice your car taking longer to start up than usual, it could be a filter problem. As a general rule of thumb, we recommend coming into our service bay for a checkup every 15,000 to 30,000 miles you drive. This range is vast because it is affected by the terrain you drive on, the climate you drive in, and your unique model, but it is still a good timeline to follow! Read your owner's manual to learn about the inner workings of your vehicle, and contact us using our Ask a Tech form with any remaining inquiries.
Replacement
If you come in to see our team and they do determine that you need a replacement, we have an in-house Parts Department that can handle that. They have a stocked inventory of components on hand that they can dig through to find the ideal fit! Then, it's just a simple swap out and your car will be running as good as new. While our team works, we invite you to relax in our waiting room and peruse our Service Specials. They are updated often to give you more bang for your buck on your maintenance projects!
For air filter replacement service in Sea Girt, NJ, visit us at Coast Honda! We have a friendly team and convenient location that can make getting your vehicle fixed a simple and easy process.

Testimonials
No Appointment Needed!
4-25-2018
Great Experience!
5-16-2018
Fantastic Experience!
4-19-2018
Great Parts and Service Department!
4-11-2018
No Pressure!
3-28-2018
Jeff was Great!
3-15-2018
Two Great Experiences!
1-18-2018
Great Service
10-11-2017
The Best !
8-26-2017
Excellent experience!
7-30-2017
"Civic to HRV"
4-12-2017
"Friendly and Professional Internet Sales Team"
3-2-2017
First Time Car Buyer - Big Help
2-19-2017
Wonderful experience!!! Pat Marotta was terrific salesman!!!
2-18-2017
Best Experience I Ever Had Purchasing a Car
1-4-2017
THE EASIEST CAR BUYING EXPERIENCE OF MY LIFETIME!
Toms River, NJ
12-23-2016
Loyal to Honda
12-7-2016
Easy and Breezy!
11-30-2016
Fantastic Service
Lavallette, NJ
11-2-2016
Read More